Our world has been incresing in techonology day by day, and now there are many technologies which we are fond of and can not live without them, one of them is mobile without which we can not live.
But now the child having mobile spends a lot of time on it, if you are a parent you should have to check their mobile and if you want to see their activity in their mobile you can check without knowing them. If you are a boss you can also check your employee's phone by spying them. So, if you want to spy their phone without knowing them, you should download these softwares Free and paid, so here is a list of these softwares.
1. Flexispy
FlexiSPY is one of the most feature-rich and powerful cell phone spy software in my opinion . It's one of the very few spy apps to offer something called Call Interception, which lets you secretly record and listen into phone calls. The only catch is that you'll have to root or jailbreak the target phone in order to install it.
If you've jailbroken their iPhone, or rooted their Android phone, you can take advantage of the FlexiSPY spy app. Once installed and configured, it runs in the background and silently records all user activity, including call recordings, call history, GPS, texts, emails, photos, social media and instant messages (Facebook, WhatsApp, Skype, etc.), and more. All the data collected can be viewed through a web-based portal or mobile app.
FlexiSPY has been around since 2006, and it's still a popular spy app today. There are two versions: Premium and Extreme. FlexiSPY Premium offers everything you generally need from a phone spy app, but if you want more advanced features, the Extreme version might be what you need. Here's what it does:
Live Call Intercept: Intercept a phone call and listen in on the conversation.
Record Phone Calls: Remotely record all phone calls they make and receive on their cell phone. All call recordings are uploaded to your FlexiSPY control panel as MP3s.
Record Surroundings: Remotely activate the microphone on their phone and hear what's really going on. You can also record their phone's surroundings at any time. All recordings are uploaded to your FlexiSPY account.
RemCam: Remotely activate the camera and take a secret picture to view the phone's surroundings.
So should you use FlexiSPY? I would only recommend using it on a jailbroken iPhone or rooted Android. I tried to install it on a non-rooted Android phone, but it doesn't work. If you're new to cell phone tracking, and don't want to root or jailbreak their phone, I highly recommend starting with Highster Mobile. In my opinion, FlexiSPY is the most feature-rich spy app available, but it's also the most expensive. Make sure you NEED all the features before you spend the money.
Price: FlexiSPY Premium version – $149, FlexiSPY Extreme version – $349 (1-Year License)
Developer: Flexispy, Ltd. The company was founded in 2006, and is based in Thailand.
Visit their website: http://www.flexispyapp.com
2. Hoverwatch
Hoverwatch is a spy app that tracks and records phone calls, texts, instant messages, locations and visited websites. If you are a parent who wishes to monitor the movements and communications of your child, Hoverwatch allows you to do so via a secure Web portal. The app's interface is simple and intuitive. I tested it on my Android phone and it worked quite well.
Below are some of the key features and benefits you'll get with Hoverwatch.
Free Trial: Hoverwatch offers a free 3-day trial, so you can give the app a shot and see how it works yourself.
Record Calls: Record and download phone calls from the monitored phone and listen to them anytime.
Camera Tracker: Take photos of anyone trying to unlock the device.
Capture screenshots: Remotely snap screenshots of the user's device.
Hoverwatch costs $19.95 per month, but that's a small cost to pay to remotely track your child's location, monitor their social media, view their browsing history, read their instant messages, record their incoming and outgoing calls, and more.
The Hoverwatch app works on all Android devices running Android 4 and up. It also has desktop versions for Mac and PC.
Price: Free to try; $19.95 per month or $99.95 per year.
Developer: Refog Inc., a US-based company founded in 2002.
Visit their website: http://www.hoverspyapp.com
3. Mobile Spy
Mobile Spy, as the name suggests, is a mobile spying app that lets you spy on Android phones. It has all of the usual features you might expect from a cell phone spyware, including location tracking, remote locking, and the ability to record phone activities. It also comes with parental control features, which allow you to remotely control your child's device usage. Other features of the Mobile Spy include:
Live Control Panel: See the actual screen of the phone, updated every 90 seconds.
Application Blocking: Block access to specific apps and websites.
Alerts: Be alerted anytime the target device travels outside of a specific area you've designated on the map via the control panel.
SMS Commands: You can send commands from the live control panel to control your child's phone, such as lock and unlock the phone, wipe phone data, etc.
As with most Android spy apps, Mobile Spy is easy to install and configure. I downloaded the app, created an account, and followed the on-screen instructions to configure the app's settings.
Price: $90 for a 6 month subscription or $139 for a 12 month subscription
Developer: Retina-X Studios, LLC, a US-based company founded in 2003
Visit their website: http://www.mobile-spy.com
4. Highster Mobile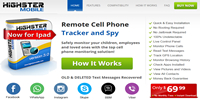 Want to spy on an Android phone? The easiest way to do it is using Highster Mobile — just download and install it onto the phone you want to spy on, enter your license key, and you're all set. Couldn't be simpler. There are no settings or options to configure. After installation, you can log into your account and start tracking.
Highster Mobile is the most affordable spy app I've tested, at $69.99 one-time purchase with no recurring fees. It doesn't have as many features as mSpy, but it's a great app for those who want to spy on an Android phone without rooting or unlocking the phone. It has most of the features you're likely to need.
Real-time GPS Tracking: Know where they are at all times and know where they are going. Track their cell phone location history & current location. Locations are displayed on a map on the company's website.
Text Message Monitoring: Read their text messages, even those that have been deleted. Keeps a running record of all text messages sent and received.
View Call Logs: View the phone's call history, including calls made, calls received, calls missed, phone numbers, and the date, time, and duration of the calls.
View Photos: All of the photos on their phone will be uploaded to your account.
View Browsing History: Track which websites they've visited and what they've searched for.
View Contacts, Calendar & Apps: View their contacts, calendar entries and installed apps.
Social Media Monitoring: Monitor different social media apps they use and who they talk to, including Facebook, WhatsApp, and even Snapchat messages. This feature, however, is only available on rooted devices.
If you're looking for a low-cost spy app for Android, Highster Mobile should be at the top of your list. It's competitively priced, offers many useful features, has a user-friendly web interface and it's very easy to use, even for beginners.
Highster Mobile works with devices running Android 2.1 and up. I tested it on a Samsung Galaxy S5 (Android 4.4), a Motorola Moto Z (Android 6.0), and an HTC 10 (Android 6.0.1) and it worked fine on all of them.
Price: It only costs a one-time fee of $69.99 – making it one of the cheapest spy apps on the market today.
Developer: ILF Mobile Apps Corp, a US-based company founded in 2010.
Visit their website: https://www.highstermobi.com
5. Realtime Spy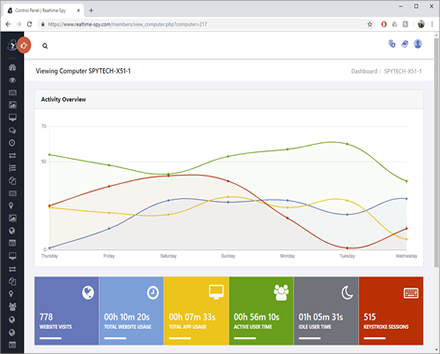 Realtime-Spy is the most robust, feature-rich, cloud-based computer monitoring and remote spy software available for parents and businesses that allows you to remotely install the monitoring system on any computer you own and access the activity logs from anywhere at any time via your own personal Realtime-Spy account! There is no need for directly connecting to the remote PC – all you have to do is point your browser to your secure Realtime-Spy member's area to view logs from any computers you install Realtime-Spy on. Realtime-Spy can log and record anything your child or employee does on your computer, as well as display, in real-time, what they are doing and typing.


Realtime-Spy is a remote spy software solution that requires no physical installation, runs in complete stealth, and allows you to truly view activity logs from any location at any time
Visit their website:https://www.realtime-spy.com/