Really it's very difficult to find best free video editing softwares ,for a great editing and amazing effects.It's very important for editors to edit their video's of good quality like youtube video's,into makers and many more. Choosing bad softwares for your videos can make your impression bad on the public, so you should get best quality video editing softwares to make your impression good and to make your video's look like professional, I have made a list of some best free video editing softwares to make your video's look like professional, so let's check these softwares………..
1.DaVinci Resolve
Available on Windows, Mac, and Linux.
DaVinci Resolve is arguably the most advanced video editor on the list. While it has many professional features, its interfaces remain intuitive. Alongside video slicing and trimming you can master audio and correct color. You can also use it to add 2D and 3D titles to your video. If you just want to trim and upload your videos, the rich feature set of DaVinci Resolve may be too extensive. However, if your video project is a little more advanced, the free version of this software is hard to beat.
Features included:
Advanced trimming
Multicam editing
Color correction
Audio mastering
Pros: Intuitive interfaces and incredible color correction.
Cons: Its wide array of features make it a little overwhelming, and not all tutorials are free.
Best for: More advanced projects where you need to correct colors.
2. iMovie
Available on Mac
Good old iMovie comes baked into Mac OS. Like most native Mac apps, this video editor is very intuitive to use. It features a drag and drop interface. Mac users can use iMovie as a playground for learning the basics of video editing. Once you are up to speed, you may find that alternative video editing software in this list may better suit your needs.
Features included:
Library of pre-made transitions
Video trimming
Audio editing
Split screen
4K resolution support
Pros: Easy to learn.
Cons: Advanced users may find features a little limited; import and render times can be a little slow.
Best for: Mac users getting started with video editing.
3.Avidemux
Available on Windows, Mac, and Linux.
Avidemux is great video editing software for beginners as the interface is very simple to use. This program can help you to perform basic tasks including:
Simple cutting
Encoding
Filtering
If you are completely new to video editing, this might be a good place to start.
Pros: Very simple software; no need to read technical docs.
Cons: Not as many features as other video editors.
Best for: Basic editing tasks.
4.HitFilm Express
Available for both Mac and Windows. HitFilm Express is one of the more professional video editors to make the list. It contains all the features you would expect from a basic editor (splicing, trimming, and audio editing) plus many more. While some users may find HitFilm a little advanced, it's certainly one of the best all round free video editors out there. The free package includes over 180 special effects.
The tutorials are mainly based on well known Hollywood movies like Star Wars, but these are very interactive and engaging.
Before you can download this software, Hitfilm asks you to share a status update on social media. However, this is a very small price to pay for such advanced software. Finally, Hitfilm includes a store where you can purchase add-ons, but this is beyond the scope of most users, as the free feature set should be more than enough.
Features included:
Advanced cutting tools
Keying for green screen effects
Audio and video filters
Compositing tools
Layers and masking
3D video support
Pros: Truly professional video editor without the price tag.
Cons: May take some time to learn the interface.
Best for: Youtuber Vlogs – Youtube uploading is built in.
5.Blender
Blender, one of the best free video editing software, is available on Windows, Mac, and Linux.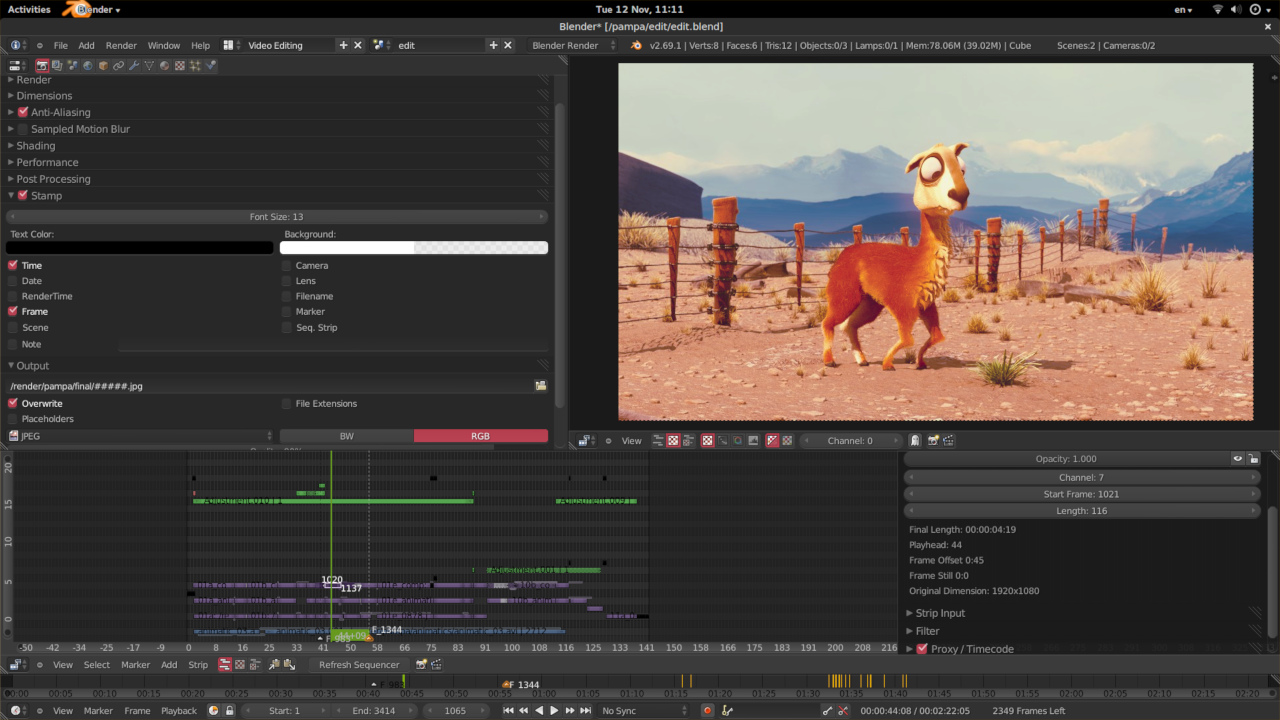 Blender, one of the best free video editing software, is available on Windows, Mac, and Linux.
Blender is an open source program that is entirely free to use. Blender was actually designed as a 3D animation suite, but it does come with a very useful video editor. Blender's video editor should be enough for most of your video needs.
The editor allows you to perform basic actions like video cuts and splicing. it also allows you to carry out more complex tasks like video masking. This makes it a very flexible video editor and caters to both beginner and advanced users.
The Blender Video Editor includes the following features:
Live preview, luma waveform, chroma vectorscope and histogram displays.
Audio mixing, syncing, scrubbing, and waveform visualization.
Up to 32 slots for adding video, images, audio, and effects.
Speed control, adjustment layers, transitions, keyframes, filters, and more.
Pros: Perfect for advanced users who are not put off by all the features.
Cons: The sheer array of features make the learning curve a little steeper. Most of the tutorials are focussed on the 3D animation/modeling side. The resources to help you with the video editor are very limited.
Best for: More advanced projects that may involve 3D animation.
6.Openshot
Available on Windows, Mac, and Linux.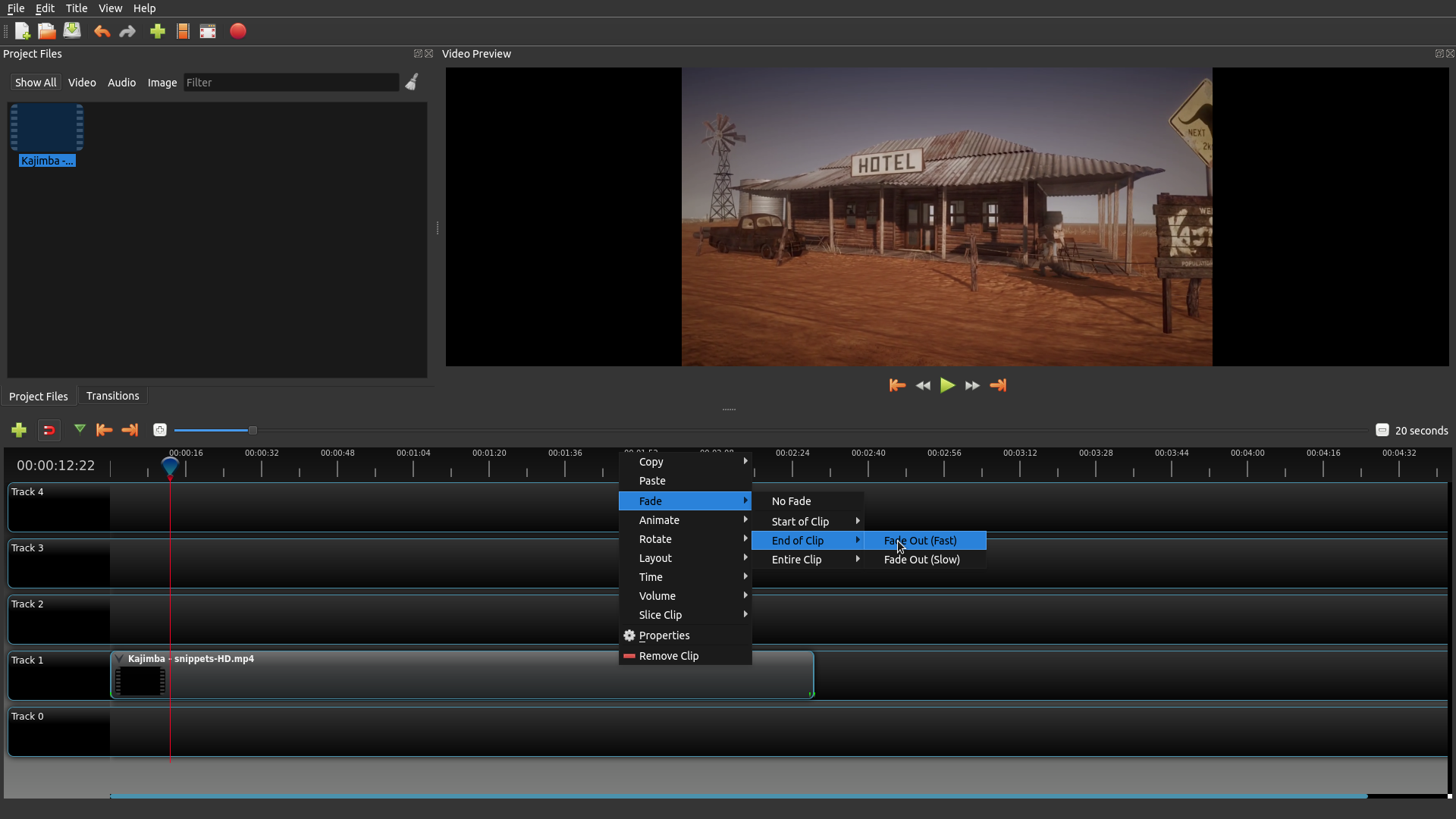 Openshot is entirely open source. It may remind some Mac users a little of iMovie with its easy to use drag and drop interface. However, Openshot packs more features than iMovie, including unlimited layers and audio mixing. This free editor strikes a nice balance between advanced features and a simple interface. It also allows real time previews when you create transitions between clips.
Features included:
Unlimited tracks / layers
Clip resizing, scaling, trimming, snapping, rotation, and cutting Video transitions with real-time previews
Compositing, image overlays, watermarks
Title templates, title creation, subtitles 3D animated titles (and effects)
Advanced Timeline (including Drag & drop, scrolling, panning, zooming, and snapping)
Pros: Open source, unlimited layers.
Cons: Not that many video tutorials.
Best for: Great for users just starting out with video editing.